Live Support
Shipping Limits:
We ship anywhere in the United States.
International orders welcome. Please contact us for shipping charges if you are in other area. For international wholesale orders, please follow this link: WholesaleCentral Store.
Shipping Policy:
We ship most orders within 1-2 business days (except weekends and holidays) after receiving your confirmed order with full payment. If in any cases we cannot ship your order, we'll contact you by phone or email.
FedEx Ground Transit Time Map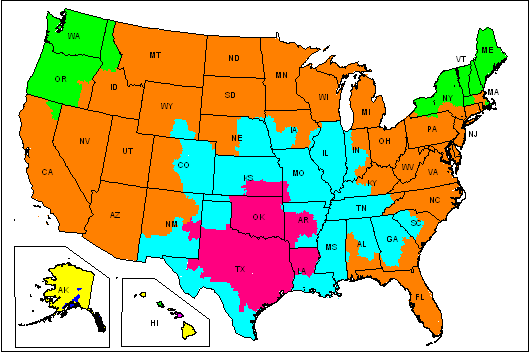 The above maps illustrate service schedules in business days as of December, 2009 for FedEx Ground shipments. For FedEx Ground, a business day does not include Saturdays,Sundays, or holidays. The time frames shown above are not guaranteed delivery time, just for your order reference.)

Questions? Contact us or FedEx(1-800-463-3339)
Return Policy:
Return Merchandise Authorization (RMA#) required. Please call or email us to obtain a RMA# before returning any merchandise.
You may return an item for refund or replacement within 15 days of the shipment date. Shipping and handling charges are non-refundable. All returns must be accompanied by the packing slip or Invoice copy. A 15% restocking fee may apply.
When you return an item, follow the instructions on the back of the Invoice you received, and most importantly, please indicate the reason for the return.
You may want to insure your return; we cannot be responsible for lost or misdirected returns. If you paid for your order by credit card, a credit will be issued and will appear on your billing statement.
Your packing slip will indicate where you need to send your return. In general, though, you may return merchandise to:
[G&Z International, Inc., 11424 Chairman Dr., Dallas, Texas 75243, USA]
If you have any questions regarding your order, please feel free to contact us at:
[(214)342-1900 or email us at returns@gzintlinc.com]